Dragon boats in Dolce
Dolce u Trutnova recreation area has traditionally provided a chance for amateur competitors and enthusiasts to take part in the Trutnov Challenge Cup. This race usually takes place in June on the 200-meter-long race and offers a unique opportunity to try canoeing an open shaped vessel with a dragon's head and tail at the stern. The symbol of the town of Trutnov, a dragon, comes to life even here outside the town.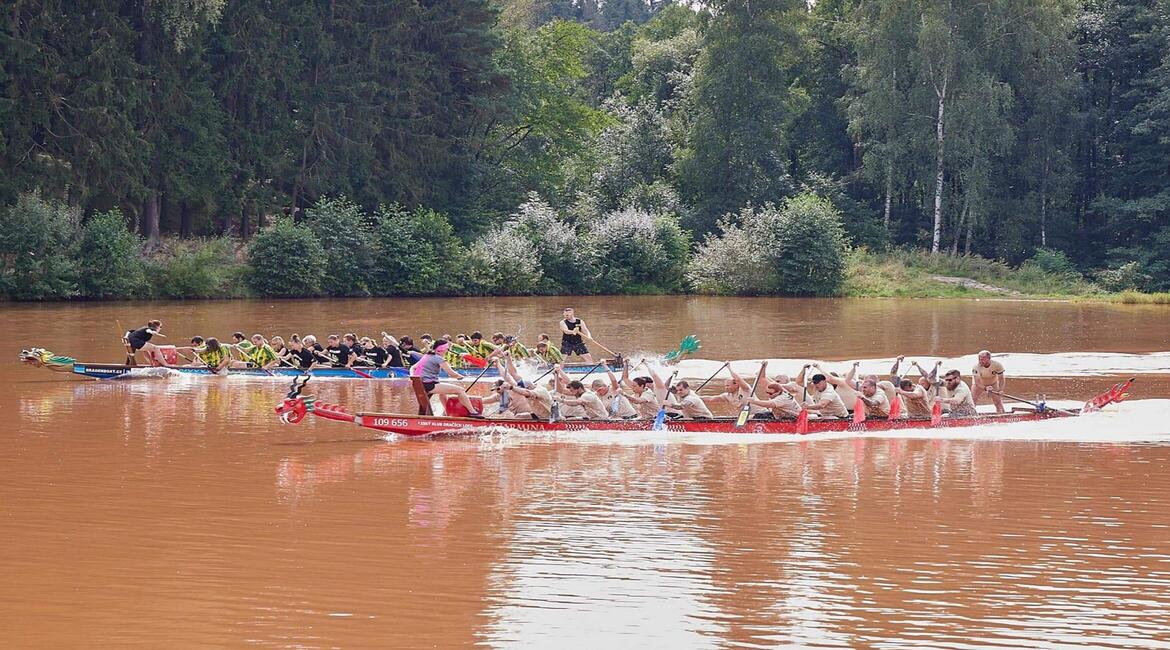 Anyone can participate. All you have to do is form a 16 - 20-member team either from your work, family or friends and go for it. Even smaller groups needn't despair. All you need to do do is log in, enter the number of people in the team and the event organizers will merge them with another smaller group, with which they will then form a complete team. Riding the canoe in a precise rhythm is incredible adrenaline experience and really hard work! Therefore, you will need the drummer who indicates the pace and a pilot who indicates the direction (provided by the organizer). Watching the originally Chinese dragon boats, with a history of more than two thousand years, is truly spectacular. With full engagement of the crew, the boat looks like a truly moving dragon, so even the observers will appreciate the breath-taking spectacle.
Part of the sports day is an accompanying program full of fun for small and adult spectators. Children can look forward to a trampoline, a bouncy castle, a playground, face painting, an archery tournament, and many other attractions. After the races, a grand concert party awaits everyone. Of course, there is a plenty of good food (grilled specialties, dragon menu), drinks, music, but most importantly good entertainment.
There is a possibility of accommodation in the area (for participants of races at discounted prices). Reservation in advance is required.